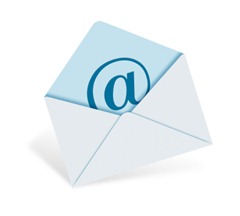 A lot of my clients when just getting started with their websites and "online marketing" are confused about the appropriate use of e-mail marketing. It is really important to become clear about who, what, when, and how often you should be emailing prospects – not only to effectively get your message across in the right way, but also to avoid getting into legal trouble because you are accused of SPAMMING people.
This article is an answer to this need for guidance. Now, keep in mind that I will be talking about "mass e-mail marketing" – also know as "broadcast messages". Generally if you are sending a one-on-one message to someone you met at a networking event, or corresponding with your current clients, these rules don't apply. Just use basic email and business etiquette to guide you in that correspondence.
General E-Mail Marketing Best Practices
If you plan to send out regular mailings, such as sales messages, promotions, or an "e-zine" or "eNewsletter", the best thing to do is to sign up with a dedicated "email service provider" ("ESP" – no, not the psychic kind!). There are many different services to choose from, with different pricing models and features. How to choose one will need to wait for another article, just pick the best option and get your account set up.
While you are setting up your account, make sure your reply email address is one on your domain (for instance, ezine@yoursite.com or mail@yoursite.com) and it displays clearly who you are (your name and/or company name).
I also suggest you set up "double-opt-in" if it is an option for your account. What this means is that once someone fills their email address into your sign-up form, they will receive an email asking them to "confirm" their subscription by replying or clicking a link. This will really help you stay clear of the SPAM laws, and ensure that you will have a high quality list of real, interested people.
Your account will provide you with HTML code to put on your website which will display a sign-up form for your visitors to use to subscribe to your list. You will need to carefully copy & paste this onto your website. (If you aren't using a CMS, you might need to get your web developer to help you with this.)
Frequency counts with e-mail marketing, so you will want to have a schedule for when you send out messages. If you plan to have a regular e-zine or newsletter, you should send it out either the same day each week (aka every Monday), or every two weeks (every other Monday), or every month (the first Monday of the month, etc). If you send it out irregularly you will get less response from it and your readers won't know to expect it. Though more frequently is better, choose a schedule which you know you can stick to.
Standardizing the format of your e-zine is a good idea to make it easier to read, and all your messages should have your branding – to build awareness and project a professional image.
All the messages you send out should have subscribe, unsubscribe, and "change preferences" links at the bottom. Generally your ESP will automatically append those items to your messages.
Who Is On Your "List"?
Be careful about how you build your list of email addresses. If you are already doing business with someone (you would call them a customer or client), it is generally safe to add them to your list, though asking permission first would be considerate of you. You might also want to keep separate lists – a purely opt-in list for your e-zine and a customers list, which you add your clients to.
It is very tempting to add everyone you know to your e-mail lists, and if you do so, it is quite possible that only a few people will complain, however, this is technically a violation of CAN-SPAM laws. Think about this carefully, and check the rules with your ESP as well, since if too many people report you as a spammer, you could lose your account or have all your emails banned from delivery.
Purchasing Lists – Just Say No
There is really no reason for you to send messages to an email list which is not your own opt-in or customer list. Period. This is very clearly a violation of law and is also a waste of your time. Your chance of getting any positive response is so slim as to be not worth your time in constructing the message, let alone the cost for the list.
You might be offered the opportunity to send a message to an opt-in list owned by a colleague or friend. This can also be tempting, but though it might not necessarily be against the law (depending how you do it), it most likely won't produce the result you are looking for. After all – no matter how you get the names, if they don't know who you are, in their view it is unsolicited email from a stranger – the classic definition of SPAM.
A better way would be for your friend or colleague to send out a message themselves to their list personally recommending you and giving information about how they could get in touch with you or join your list for more information.
SPAM Laws
Here are some resources for learning more about SPAM laws:
CAN-SPAM Act of 2003 on Wikipedia (USA)
Spam Laws.com (Laws from various countries)
Web Action Steps
Decide what sort of email you would like to send, to whom (prospects / current clients), and with what frequency.
Research email service providers and sign up with one
Put the sign-up form code on your website
Follow good "netiquette" and your local SPAM laws as you build your list and send out messages.
Having a high-quality opt-in email list to mail to on a regular basis is a great way to stay "top-of-mind" with prospects and clients, as long as you are using it appropriately and following the law. If you need help choosing an ESP, setting up your list and sign-up form, or otherwise getting your own email marketing strategy in place, consider contacting me for help.