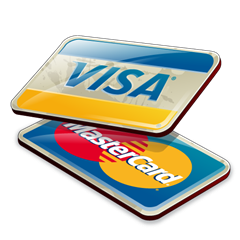 Once you have a website up you might want to consider accepting payments for your products and services online. These days there are tons of options for accepting credit cards for your business, and selecting the right option can be a challenge. These are the most important things to consider when making your selection.
What Are You Selling?
The first thing to consider is what exactly you are planning to sell. Are you primarily interested in accepting payments from clients you work with one-on-one? Are you setting up a group coaching program, or having an event you want to sell tickets to? Are you planning on selling a self-published book, or a physical product? Is it an information product, like a collection of videos, audio recordings, or an eBook? Are you establishing a membership or some other type of regular subscription? Knowing what sort of payment processing you need up-front will help you make the right choice. Also, don't just think about your current plan, but what you plan to sell later as well. You might be able to find a payment solution which will cover most of your current – and future – needs.
The basic types of sales you might be making and want to think about include:
One-time payment ("Buy Now" button)
Multiple items at a time (Shopping Cart)
Automatic billing on a regular basis (Subscription)
One-off requests for payment (Invoice)
How Are You Going to Deliver?
Distribution is an important factor in your online payment processing strategy. If you are shipping a physical product, this is especially important. Assuming that you are using a fulfillment house for your product, you need to make sure your payment system has a way to alert your fulfillment house of the new order and share the customer information that they need in order to ship out the products. If you are providing an electronic product, your payment system needs to handle the distribution automatically. The simplest way is to either use a system designed for secure product downloads, or to have it hooked-up to an autoresponder which will email the purchaser a download link. If you are delivering a service, you just need to have yourself notified of the payment, then you can begin whatever your standard process is to fulfill the service.
Certain payment services exist to handle specific types of product/service needs. For instance, event ticketing, membership websites, and self-published "print on demand" books. Whether you should use a specialized service depends on things like their fees, the volume of sales you expect to make, the complexity of using a more general solution, etc. The advantage of these specialty services is that they often include helpful tools and advanced features. Explore all the fees and features before making a decision.
What Is Your Expected Sales Volume?
How many sales you expect to make will also be a factor in your decision. Some payment processors will give you better rates for higher-volume, whereas others will cap the amount of money you can take in each month before they start investigating your business for fraudulent activity and possibly putting a hold on your account.
Depending on your products and distribution plan, volume might be a major deciding factor in whether a specialty processor is worth the extra fees. For example, if you plan to offer many events with high attendance at each, using a dedicated system for event ticket sales might make a lot of sense, because the extra management capabilities will save you so much time and headaches, whereas if you are just having a single local talk at which you expect to get 25 attendees, a simpler system will likely be just fine.
Similarly, offering a couple eBooks for sale versus a full line of 50+ products will make a difference in the type of Shopping Cart you will want.
What is Your Larger Marketing Plan?
If you have a larger marketing strategy around your online sales, it might require a more sophisticated setup. For instance, if you plan to have affiliates help sell your products, your shopping cart needs to keep track of them. If you are using a multi-step sales process, you will need to have a system that can handle simple free opt-ins in addition to paid sales. You will need a way to contact your buyers after the fact, and for high-volume sales, your shopping cart can manage your customer list as well as email marketing and autoresponders. If you plan to deliver your product via a membership website, you need to have a payment solution which integrates with your membership site software. Talk to your technology providers for help selecting the right solution based on your more complex needs.
Web Action Steps
Make a list of all the products and services you plan to sell, along with what you need for the distribution of each.
Sign up for a free Business PayPal account to use for simple online sales.
Ask your fulfillment house or print-on-demand provider for recommendations about which payment systems work best with their fulfillment process.
Estimate the number of sales per month and the total sales in dollars per month for the things you wish to sell. Make sure these numbers will work with the payment system you choose.
Check out the Whole Web Impact Recommended Resources page for payment processors and shopping carts.
Accepting payments online is a great way to get paid faster, and expand your business. Consider your business needs when choosing a payment processor. If you need customized help deciding how to set up your products or services for online sales, consider a Website Analysis & Strategy Session with me.